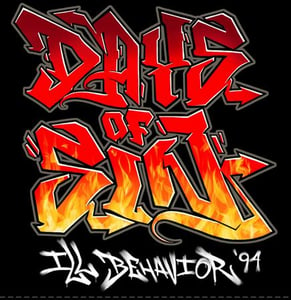 $

15.99
DAYS OF SIN
Format EP Replication CD, Jewel Cases with 2-panel inserts with art
1. If There's Beef
2. Savage Nigga
3. Put Your Guards Up
4. Pushed Up
5.Days Of Sin
6. Assed Out
7.Who Wanna Do What
All songs written by Homicide and Zoo Man Crash
All tracks produced by Izniz for Izniz Productionz
All tracks recorded at Firehouse Recording Studios and engineered by Ethan Ryman
Executive Producer: Izniz Copyright 1994
THIS IS A PRE-ORDER - SHIPS MID JANUARY !!!